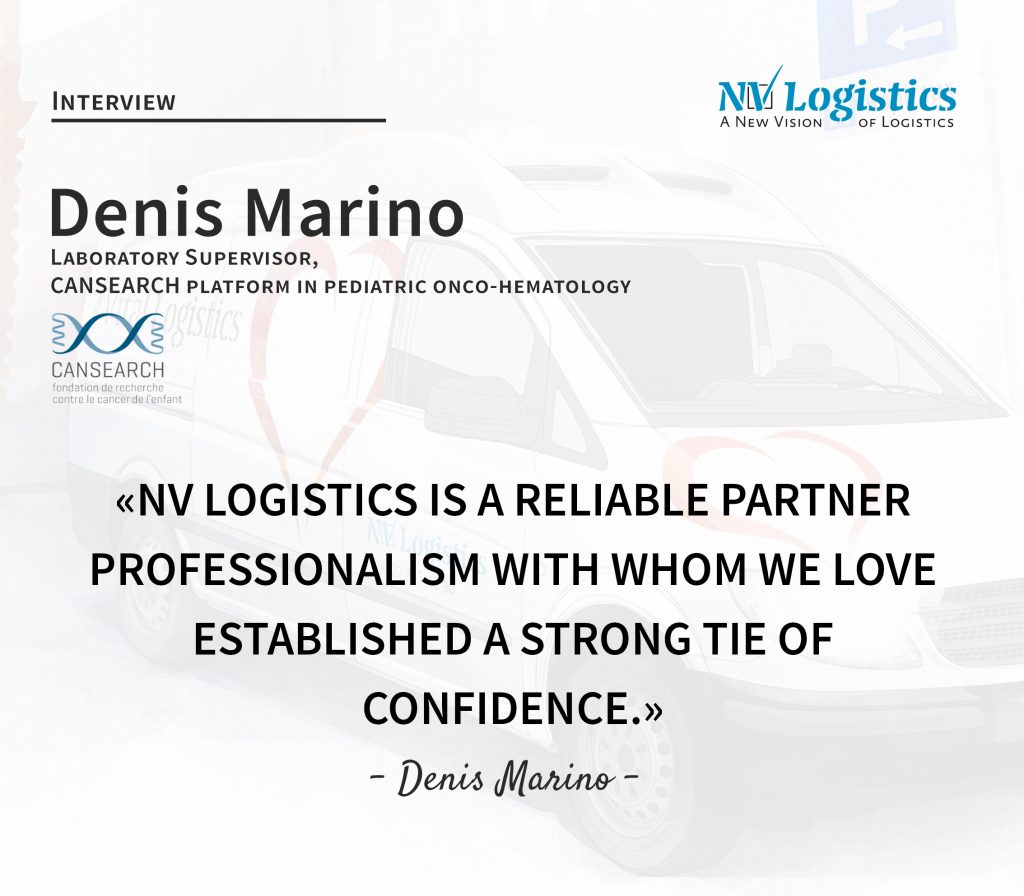 How did you hear about NV Logistics?
I was introduced to NV Logistics in 2015 at the ILMAC congress in Lausanne.
Could you tell us the 3 key points that best describe NV Logistics ?
A local company with in depth knowledge of our specific needs (the opposite of an large anonymous international logistics organisation).
A Professional approach and in depth-expertise in the medical logistics field , complying with all the regulatory requirements, is absolutely essential to us.
A dedicated partner showing total professionalism with whom we have established a strong degree of confidence in the reliable delivery of our logistics requirements.
Which challenges did NV Logistics face to organized your logistics?
NV Logistics undertook, among others aspects, a strong expansion of its logistics partnerships across the world. Given the wide reaching geographical aspects of some of our work (i.e. The research program "FORUM" necessitated the recollection of DNA samples from 25 countries). NV Logistics was forced to expand its partnership network and knowledge base.
What is particular to the transportation and shipping of CANSEARCH Laboratory Samples ?
As already mentioned, one of the essential criteria for us is the many geographical dimensions involved as we must collect samples from many regions of the world. Another essential factor is cold storage. DNA samples transported by NV Logistics require acurate and full tracability of the secure cold storage chain with a responsable individual supervision from start to end. As an example, taking one of our new project called "BuGenes", we will rely on NV Logistics as this project involves sampling from "bench to bed" and some "bed to bench" meaning that the samples are transported directly from the patient's bed to the Laboratory and vice-versa.
Would you recommend NV Logistics to your business relations?
Yes, certainly without any hesitation.
Would you like to add a few words to close this interview ?
CANSEARCH is highly satisfied with NV Logistics services.
In the meantime, the CANSEARCH Foundation is honoured to count NV Logistics among it's generous donors.
Denis Marino / Laboratory Supervisor, CANSEARCH platform in pediatric onco-hematology