.
Is NV Logistics a Lonely Planet?
Definitely not. NV Logistics is never lonely, and the whole planet is its playground!
We have been known to fly giant screens from China to Geneva for singer and rapper Stromae, or mindfully drive precious corneas from Geneva University Hospital's (HUG) Cornea Bank to a doctor's operation table.
But it's not every day that one gets involved with shipping to the Antarctic!
And yet, as a partner of the Norwegian Polar Institute, the Norwegian charter company Aircontact and the Swiss operator PrivatAir, this is exactly what we did 4 times, between November 2014 and March 2015.
Destination: Troll Station, Antarctica.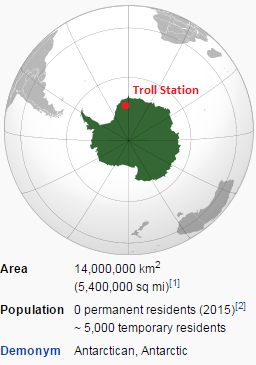 Source: Wikipedia
Position: S 72°, 01′ – E 02°32′
The Troll Research Station is located 235 kilometers from the coast in the eastern part of Princess Martha Coast, in Queen Maud Land, Antarctica. It is at 1275 m above sea level.
Pictures speak louder than words.
If you want to skip the pictures and discover the story, click here.
Photos by Sven Lidstrom of Norwegian Polar Institute.
Troll revealed.
Troll is the Norwegian research station in Antarctica. It was constructed to perform meteorological observations, radiation measurement, including UV radiation, and field research programmes on glaciology, biology and physics.
Transporting people and equipment to the station has been a challenge ever since the station was built during 1989-90 as a 100 m2 light construction. At that time, it was little better than a small summer house. It was then only open in the southern summer, from November to February.
During winter, the temperatures go as low as -60 °C, and wind speeds are up to 60m a second!
In 2005, the station was modernised and made bigger, ready to accommodate research teams all year round.
And the transportation to and from Troll was finally simplified, by clearing the "troll airfield", a 3000m long landing strip of blue ice.
Adding the airstrip was a milestone. Until 2005, all transport happened by sea and by ship: from South Africa to the ice edge in Antarctica. Then people and equipment were taken by weasels (snow mobiles) on a rigorous, time-consuming route 235-280 km across the ice, over crevasses and climbing a total of nearly 1300m before finally reaching Troll.
A mission awarded to NV Logistics.
We were given the responsibility of acting as the Geneva central collection and storage point for scientific equipment which was sent to us from suppliers in northern Europe.
Our company was also in charge of the critical mission of managing the inventory, ensuring that everything was in order and ready for the unusual (and costly) charter flight to Troll, executed by PrivatAir out of Geneva.
Equipment included computers, thermic clothing, rucksacks and other such gear, as well as ice drilling machinery.
A first in 2012. Flying a Boeing 737 to Troll.
The very first such flight is relatively recent. It took place on November 28th 2012 and required over a year of preparation. Objective: safe landing and take off on blue ice (no breaking allowed!). Click here to watch the video and read the story, published by the Norwegian charter company Air Contact.
Now a regular service!
Since then, using jets to fly equipment to Troll Station has become a regular scheduled service out of Geneva. And we're proud to be a part of this amazing adventure!
About Antarctica.
Antarctica is a continent, and Earth's southernmost at that. It contains the geographic South Pole and is surrounded by the Southern Ocean. Its area is 14'000'000 km², for comparison: nearly twice the size of Australia.
About 98% of Antarctica is covered by ice that averages 1.9 kilometres (1.2 miles) in thickness. The continent is the coldest and driest on earth, with an average height above sea level of approx. 2,500 meters.
It is considered a desert, with annual precipitation of only 200 mm (8 inches) along the coast, and far less inland. The temperature in Antarctica has reached −89 °C (−129 °F).
There are no permanent human residents, but anywhere from 1,000 to 5,000 people reside throughout the year at the research stations scattered across the continent.
Organisms native to Antarctica include many types of algae, bacteria, fungi, plants, protista, and certain animals, such as mites, nematodes, penguins, seals and tardigrades. Vegetation, where it occurs, is tundra.
Airmail envelope in header kindly offered via
Flickr by Kimberly Hopkins under Creative Commons License.