.
A joyful way of keeping the earth cool.
At NV Logistics, we are never short of surprises. Take as an example our tightly knit team of transport whizzes who are given challenges such as shipping a fury Yeti to Russia or flying precious scientific instruments to the Antarctic.
Being a logistics company, we stamp our footprint just about anywhere in the world!
And this is why, in 2014, we decided to team up with myclimate and make use of their smart method which transforms the carbon footprint (CO2 ) into positive and useful experiences.
The result is the climate-neutral label which has been awarded to NV Logistics for 2014, based on an in-depth evaluation of our internal administrative resources and processes.

.
We earned the label thanks to close collaboration with ecoLive, a local Geneva-based environmental agency who guided us through the certification process.
This experience has given us many insights and the opportunity of taking action in two practical ways:
Identify company-internal pollution elements with a view of reducing our own greenhouse gas emissions.
Participate in the global movement by supporting other worthwhile climate-protection projects.
Please check out the two projects we currently support. If you are already our customer or plan to work with us in 2016, these projects are also yours.
Alright. So, what's up with
myclimate?
myclimate is a Swiss non-profit organisation with an international repute. It actively promotes climate protection, both locally and globally. It prides itself to be science-based and business-oriented.
Its clients (referred to as partners) are large, medium and small businesses, public administrations, non-profit organisations, event organisers and private individuals.
myclimate's patronage committee includes (amongst others) Federal Councilor Doris Leuthard – Head of the Federal Department of the Environment, Transport, Energy and Communications and Prof. Muhammad Yunus – Founder and Managing Director of Grameen Bank and Nobel Peace Prize laureate.
How does it work?
We hope that these short points help you grasp the essentials …
1. The Assumption is that most individuals and organisations are mindful about global warming and its dire consequences.
2. The Villains are greenhouse gases, present in the atmosphere in high and concentrated volumes. Carbon dioxide (CO2) is an important greenhouse gas.
3. The (lovable) Weaklings are the human beings. We cannot help being alive, smart, curious, fun loving, restless. We like to breathe, eat, drink, make things, own things, travel, invent, celebrate, connect, work.
4. The Challenge is about strengthening the resolve of human beings to change some of our behaviours, in the interest of all and before climate change becomes irreversible.
5. The Hero is the carbon footprint; a powerful and dependable tool which empowers us to do brave deeds, such as taking concrete action to contain and reduce greenhouse gases.
6. The Plot is pragmatic and non-judgmental.
myclimate intervenes in two ways: 1. Advises organisations and individuals about how to decrease their own carbon footprint and 2. Calculates the monetary value of unavoidable emissions. Example: Company A produces 70 tons (t CO2e) of unavoidable emissions. Based on myclimate's algorithm, this translates into a monetary value of say CHF 5000. If Company A so desires (volontary), they may donate this monetary value to Project B which applies renewable energies to reduce greenhouse gas emissions. NB: Project B has a cost which is fully or partially covered by the donor's CHF 5000. Without this funding, it is most likely that Project B would not exist.
7. A positive ending – resulting in carbon-neutrality – is totally feasible. With the myclimate method, and referring to the above example, Project B (funded by Company A) reduces Company A's unavoidable carbon footprint by the same amount (70 t CO2e).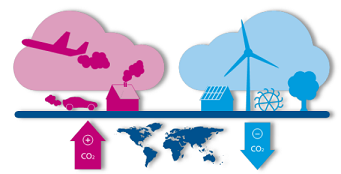 Please note that carbon footprint is not tied to a location. The climate is indifferent as to where on the surface of the earth the unwanted gases escape into the atmosphere, and where they are reduced.
Still got a minute to spare?
Browse through our super short climate change refresher, as displayed here below.
The greenhouse gases present in the atmosphere help keep the earth at an average temperature of 15 degrees Celsius.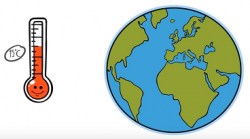 .
Without this greenhouse effect, the world's temperature would be minus 18 degrees Celsius.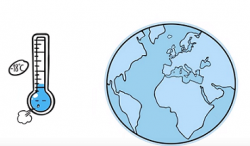 .
Since the industrial revolution, large amounts of greenhouse gases are released into the atmosphere, as a by-product of human activity.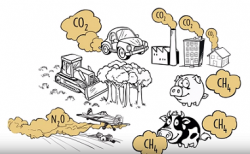 .
The rising concentration in the atmosphere of these gases leads to an increase of the average global temperature.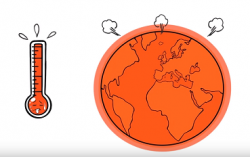 .
… which in turn disrupts our climate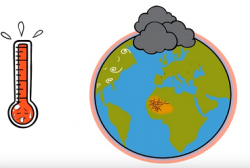 What's next?
If you are tempted to earn your own climate-neutral label, please drop us a line in the comments. We gladly share our experience of the insightful certification process we completed and which allowed us to take immediate and positive action, both internally and globally.
The visuals in the above climate change refresher have been copied from a video
produced by ADEM (Agence de l'environnement et de la maîtrise de l'énergie).
You can watch the 4 minute video here
https://youtu.be/qxdxBfZKoa0